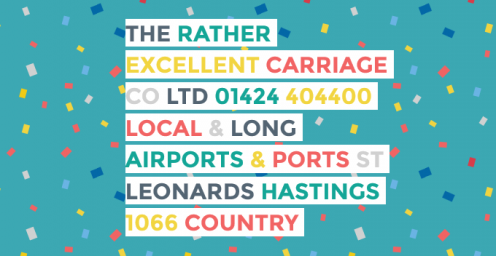 Our prices for normal metered fares in and around Hastings and St Leonards are the same as the taxi rates set by the local authority. All other prices we believe are competitive for our unique new services we offer.
Phone us on
01424 404400
Our Regular Airport, London, Port and Euro Tunnel Price List
Saloon Estate 5/6 seats 7/8 seats

Heathrow £119 £124 £170 £180
Gatwick £69 £74 £89 £99
Stansted £140 £150 £170 £180
London City £130 £135 £175 £190
Luton Airport £150 £160 £210 £230

Ashford Int £50 £55 £75 £80
St Pancras £120 £125 £160 £190
Southampton £110 £120 £140 £175
Dover Docks £75 £85 £95 £115
Folkstone Euro £70 £75 £85 £95
London SE/SW £150 £135 £165 £195**
London NE/NW £160 £165 £190 £225**
**London Congestion Zone charge is a nasty £12.50 between
07.00am and 18.00pm monday to Friday.
you must add this to the price.
**Since November 2015 we introduced variable pricing to airports and ports during rush hour times and overnight travel. Heathrow as an example can regularly take 5-6 hours driving in total (That is there and back) Our prices reflect these now unavoidable extended trips during rush hours.
We always advise to travel outside rush hour times where possible to enjoy a smooth trip and better pricing. Better for all.
Example of variable pricing for a Saloon Car

Hastings to LHR (saloon) 00.00am to 08.00am £129 **

Hastings to LHR (saloon) 09.00am to 12.00pm £119
Hastings to LHR (saloon) 13.00pm to 18.00pm £129 **

Hastings to LHR (saloon) 18.00pm to 23.00pm £119
We can collect from any address in Hastings and St Leonards and in the wide journey corridor that heads towards the M25/East/West Sussex to the above Airports and main London Stations.
Phone us on
01424 404400
We may save you money on your local prices!
*We Make every effort to contact you when you land, we have places to meet you and we advice on contact the best place to find you, this changes according to how busy the airport is on the day. *Parking costs are traditionally met by the customer
**We can store baby seats for you and have them ready fitted upon your return.
1066 House Tours©
Hourly £40
Four hour package £110*
Seven hour package £175*
*Can be metered at normal rate (£10 initial charge plus meter total.)
Four and seven hour packages can be split over a weekend into two parts if you prefer.
There ARE other rather lovely things to do in Hastings and St Leonards after all!
These charges can be tweaked and tailored to your exact itinery requirements within the Hastings and St Leonards, always worth a call!
Phone us on
01424 404400
Small Parcels and Documents Delivery.
We can provide a signed for service with text/email confirmation for the delivery anywhere of important/fragile parcels and documents, we can provide a set price for this service upon request.
Our Twitter airport offers are a bare bones service and can be removed or declined/amended at anytime prior to a journey, once on board one of our vehicles the offer is valid for that journey and quoted price stands.
Phone us on
01424 404400
We accept debit and credit cards by phone and in car at a small additional charge of 2.75% this is the charge set by the big nasty credit card companies and not by our rather lovely selves.
We have Contactless card machines in all vehicles
and take payments by phone